Today's online marketplace has brimmed with websites of brands that are competing to gain the best of customers. This is exactly why it is getting more important than ever to have website  development professionally, which leads to have a striking design. Clients look for web and mobile sites that engage the audiences to the fullest and give a handsome turnover.
Lets Nurture- Your Website Development Hub
Make LetsNurture your web development partner and get an impeccable web solution for your business. Right from conceptualising to completion, we will plan,design and develop your company's website by providing you with an apt support during the process and thereafter so that you can grow your business.
The top-drawer website designers and website developers working at LetsNurture never ignore the fact that it is your website and it should be developed and designed the way you want it. Being highly professional, our project managers will provide you with the update and support on every stage of crafting your website .
Our Website Development Infrastructure
All Screen Size Monitors Devices (16″ to 40″)
Excellent Code Repository
Basecamp / Jira / Mantis / Ms Project
Active Web Developer Community Members
Experts in Linux Server Management
Skill Development Program
Test Cases / Use Cases / Documentation Process
Web Technologies We love..
Our Website Developers has hands on Experience on Web Application Development
Social Networking Web Apps
Online Recruitment Solution
Web based Survey / Employee Reporting System
Web based Daily Deal Solution
Content Management System
Web based property solution
iCode / CJ API / Linkshare API
Twillio Phone call / SMS API
Aviary Image Editing API / SDK
How can we outsource our Website development work to you / How can we hire web developers?
We have a very straight forward & customer oriented process setup. In Our Entire Delivery model our approach is to meet customer needs. Our representative will discuss requirement,cost & time for your website project. We have stage wise payment system so you will never have to worry about huge investment on your project at the beginning. We have staging server in UK so during website development process you can always review progress of your project done by our in-house website developers.
Our Website Development Process
Industries worked with for Website Development
We have implemented some exemplary websites for the clients belonging to an array of domains. It involves offering solutions to industries like Entertainment, e-commerce, Finance, Healthcare, Information Technology, Politics, Real-estate as well as Sports.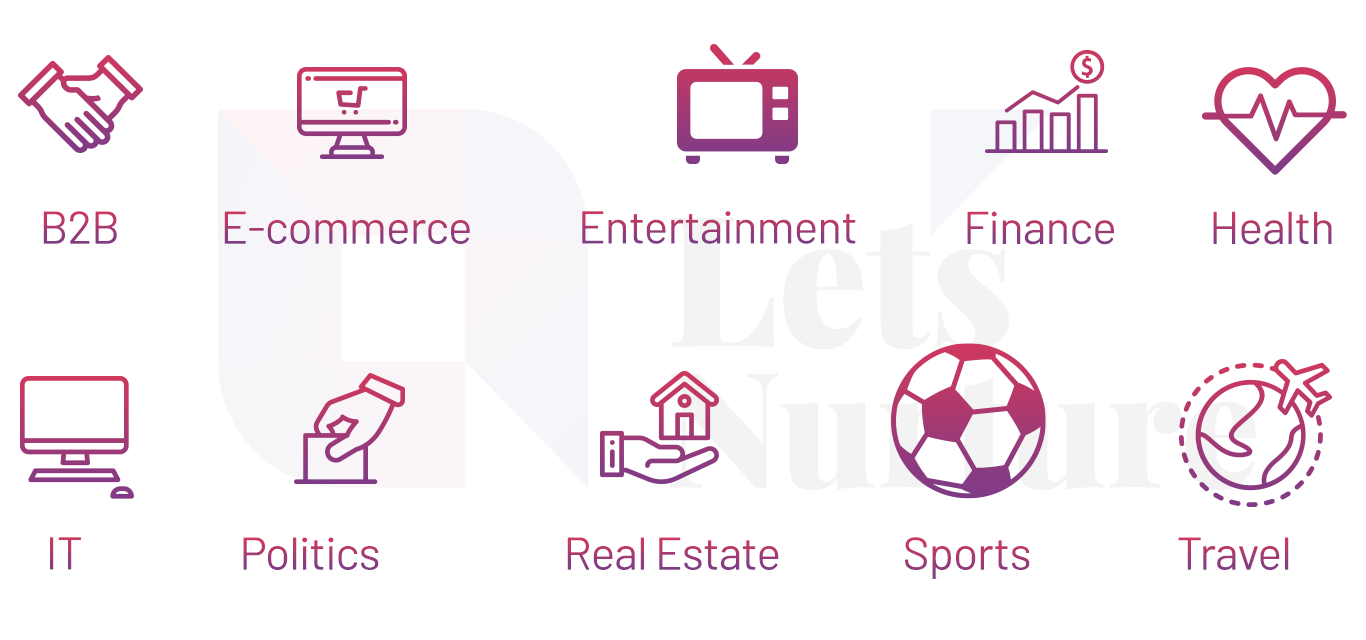 Our website development services have been catered to our client base in countries like UK, USA, Australia, Germany, Switzerland, Sweden, Singapore, Newzealand, UAE, Spain, Italy, France, Canada, Ireland, Scotland, Netherlands, Caribbean Islands and Hongkong.
LetsNurture is here to unify creativity, awesome designs and experience to render an excellent website for you!