As of 2021, the global mHealth market size was valued at approximately USD 92.8 billion and is expected to grow at a significant compound annual growth rate (CAGR) over the next several years. The growth of the mHealth market is driven by factors such as the increasing penetration of smartphones and the Internet, growing awareness about the benefits of mHealth solutions, and increasing investments in the development of mHealth technologies.
Emergence of Technologies catering Healthcare Industry
With technologies like Mobile app development, IoT Solutions, Artificial Intelligence, AR-VR, Chatbot development etc., the future of healthcare industry is advancing and changing continuously. For instance, wearables and 3D printing, when they were invented, were not meant to be used to cater healthcare industry. However, they are increasingly utilized in various areas of healthcare industry using wearable app development, Artificial Intelligence and AR/VR.
Mobility Solutions for Healthcare Industry
Enterprise mobility solutions have allowed the hospitals to go Smart too. Let us take a brief look at what solutions mHealthcare and other technologies together brings to the hospitals.
Advanced Hospital Mobility
Leveraging enterprise mobility solutions, hospitals can now go Smart and have broad range of solutions such as connected rooms, smart alerts and notifications, smartphone based applications for caregivers.
The hospital mobility solutions leveraging mHealthcare offer following features:
Streamlined and clinical workflow

Effective and well managed staff performance

Pharmacy and other inventory management with RFID and other tagging technologies

Smart consoles to allow patients to track their treatment progress and communicate with staff, doctors or relatives

Electronic medical records (EMRs), Electronic health records (EHRs) can be better determined
Custom Mobility and Consulting for increasing doctors' Productivity
Doctors frequently face critical issues in communicating with the patients while they have to look after other patients too. This hampers their productivity a lot. Proper integration of mHealthcare solutions can increase doctors' productivity and much personalized communications and encounters with patients.
Integrating mHealthcare solutions can help increasing doctors' productivity in following ways:
Patient engagement mobile apps help in improved and personalized communication

Secured data communication

Monitor vital health indicators collected by portable devices for accurate treatment

Monitor patients at home live video and audio streaming

Competent disease management
Defining Patient Engagement through Mobile Care Management
Care management today faces significant challenges, including the use of outdated and inefficient channels for patient engagement. Care plans often lack personalization and may not meet the unique needs of each patient. Additionally, care managers are often burdened with numerous tasks, preventing them from focusing on their top responsibilities.
However, mHealthcare solutions offer a way to revolutionize patient engagement by providing new and innovative approaches. These solutions can streamline processes, personalize care plans, and improve communication between patients and care managers, ultimately leading to better health outcomes for patients. By leveraging the latest in mobile technology, mHealthcare solutions have the potential to transform the way care is delivered, making it more accessible and efficient for patients.
Interactive care programs are delivered through mobile app for patient engagement

Patient engagement through mobile care program and update health status

Virtual assistance and appointment records for long term patient relationship

Real-time insights by care managers through Patient monitoring systems
Enhanced Pharmacy Operations and Inventory Management
The use of mHealthcare solutions can alleviate the need for manual inventory management. By incorporating RFID technology, these solutions can automatically track and manage the inventory of medical devices and consumables, freeing up valuable time and resources for healthcare providers. With the ability to monitor inventory levels in real-time, healthcare organizations can ensure that they have the necessary supplies on hand to meet the needs of their patients. This results in a more efficient and streamlined supply chain, improving overall patient care.
Enhanced supply chain management and pharmacy inventory monitoring

Personalized prescription assistance

Improve patient and staff safety with inventory protection against expired and recalled items

Medicinal record optimization of the patients

Improve asset utilization and purchase management, resulting in reduced capital expenditures and rental cost
Advantages of mHealthcare Solutions and Services
The adoption of mHealthcare solutions and services can bring numerous benefits to healthcare organizations and patients. These benefits include:

IoT solutions that allow for the management of multiple devices
Remote monitoring of patient health and statistics
Asset management and tracking for hospitals
Remote access, configuration, and tuning of devices
Predictive maintenance for devices in use
Increased productivity through improved workflow
Improved accuracy in patient diagnosis
Telemedicine solutions that provide remote access to healthcare
Enhanced patient data security through end-to-end analytics
Improved operational efficiency through the development of user-friendly mobile apps

These advantages demonstrate the transformative power of mHealthcare solutions, enabling healthcare providers to deliver better care to patients in a more efficient and effective manner. By leveraging the latest in technology, these solutions can help to improve patient outcomes and drive progress in the healthcare industry.
Some intriguing Stats on mHealthcare Solutions
Here are some of the facts that intrigued me the most: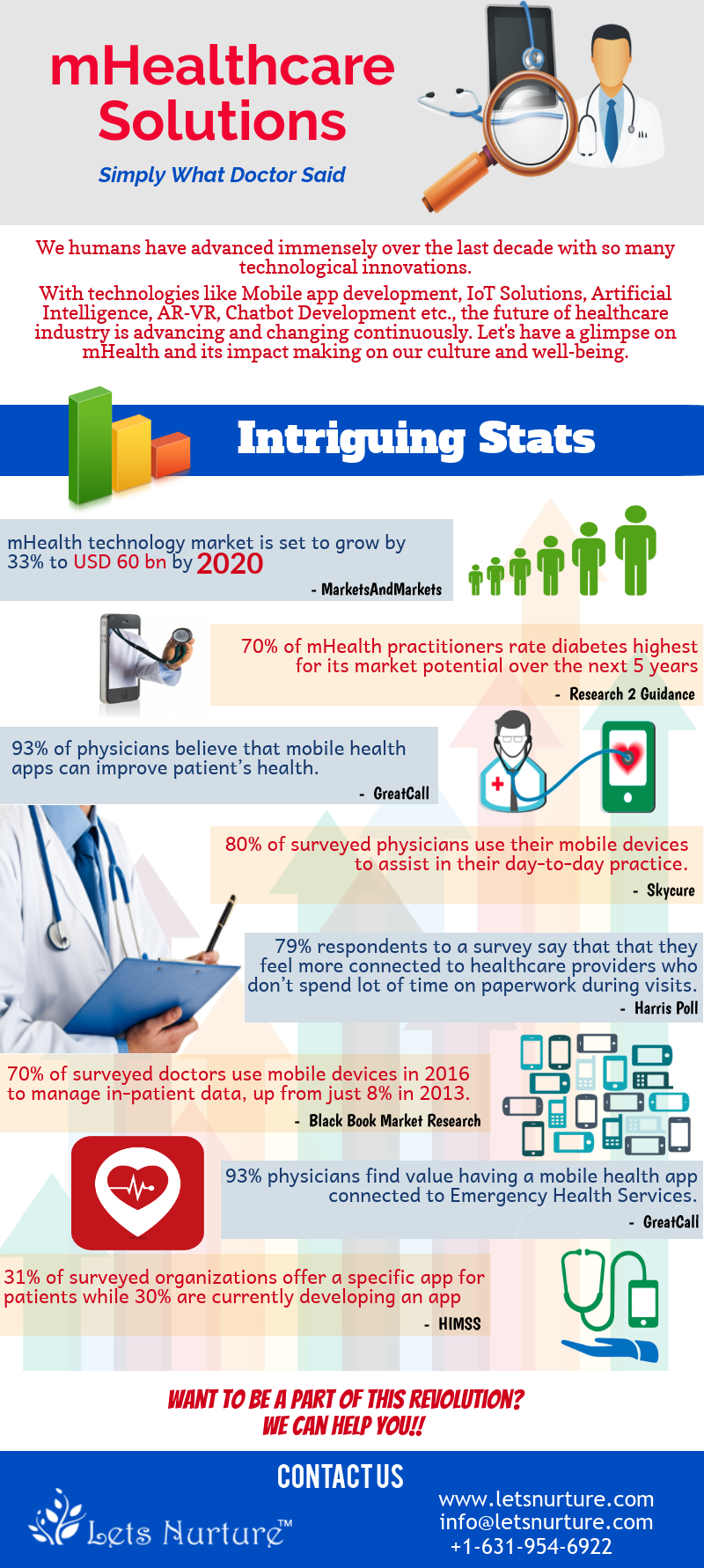 How LetsNurture helps for mHealthcare Solutions?
LetsNurture Infotech, a leading open source IoT platform for providing IoT solutions for healthcare industry and other, we have delivered highly customised with personalized accessible and real-time mhealthcare solutions for our clients leveraging custom healthcare mobile app development.
Get a Quote after free app consultation for any health & Wellness solutions or ideas you may wish to share.