Mobile Application Development
Smart phones are omnipotent. Moreover, as we are getting adapted to the wide-spread concept of 'Internet of Things', they have become the most substantial devices of today. Making an appasks for a great vision and knowledge about the current market of a particular app. By doing so, you will be able to drive sales in an intelligent way.
Mobile Applications are effective only when they are intriguing, innovative and user-friendly. If you want your brand name to shine, it is time offer your consumers with apps that they would love to have!
We Build Awesome Mobile Apps in Android & iOS !
At Lets Nurture, we constantly try to come up with the most creative digital solutions that work for our clients. We have proved our expertise by offering more than hundred of apps to the wide range of clients. Our company is quite aware of the fact that bespoke mobile app development can prove to be expensive. And that is why we are here to offer you with cost-effective apps for your business.When you need mobile feature-rich mobile applications for iPhone, Android or Windows, there is no place better than Lets Nurture. And we are sure that when ideas turn into real apps, you will love it! Under Lets Nurture's umbrella, you can find Mobile App Development for the following platforms:
The R&D team of Lets Nurture knows where the world is going. It is always on its toes to know about the latest developments happening with iBeacons based mobile application, wearables and bluetooth sensors . Our experts have an in-depth know-how of mobile technology which when coupled with research of your domain is sure to deliver great results.
Lets Nurture Mobile App Development Infrastructure
All Screen Size Android Devices (3″ to 10″)
All iOS Devices ( iPhone 3G to iPhone 6 Plus)
In-House Beacons / Sensors / Chromecast
Parse & AWS Experience
Active Developer Community Members
Experts in Linux & Mac OS
Our Hands on Experience with Mobile App Development
In App Purchase
iBeacons
Sensors
Audio / Video Player
Instagram kind Effects
Geo Fencing / Geo Location
ShareKit
Apple Watch App
Wikitude (Augmented reality)
Social Networking APIs (Facebook, Twitter)
Apps for Android Wear
Material Design
Barcode/QR code/Card scanner
Yandex Maps
Bing Maps
Google Maps
iCloud Integration
Active Developer Community Members
ASIHTTPRequest
RedLazer API (Barcode scanner)
Payment Systems (PayPal, DataTrans)
Spritekit
Storage Access Framework (Integration with cloud service providers)
NFC (Near Field Communication)
Chromecast / TV Apps
SQLLite
Our Mobile Application Development Process
Industries worked with For Mobile Application ( Android / iOS) Development
Lets Nurture has offered one-of-a-kind mobile applications to its client base. It involves making unique apps for industries including E-commerce, Entertainment, Finance, Health & Care, Information Technology, Politics, Real-estate as well as Sports. Our apps have been offered to the clients belonging to countries like UK, USA, Australia, Germany, Switzerland, Sweden, Singapore, Newzealand, UAE, Spain, Italy, France, Canada, Ireland, Scotland, Netherlands, Caribbean Islands and Hongkong.
Uploading App on your App store
Lets Nurture's responsibility will not end when we finish developing application. Our App Development Expert will make sure that your to consult you about requirement guideline for uploading your app on app store. We will make sure that application goes live on Google Play Store & Apple Store.
Who Holds the Intellectual Property Rights of Mobile Application?
Your idea is your idea. We will handover well documented code repository at the end of our agreement. And we will not use or publish it in any of our publications without prior consent from customer. In short we understand you & we are team.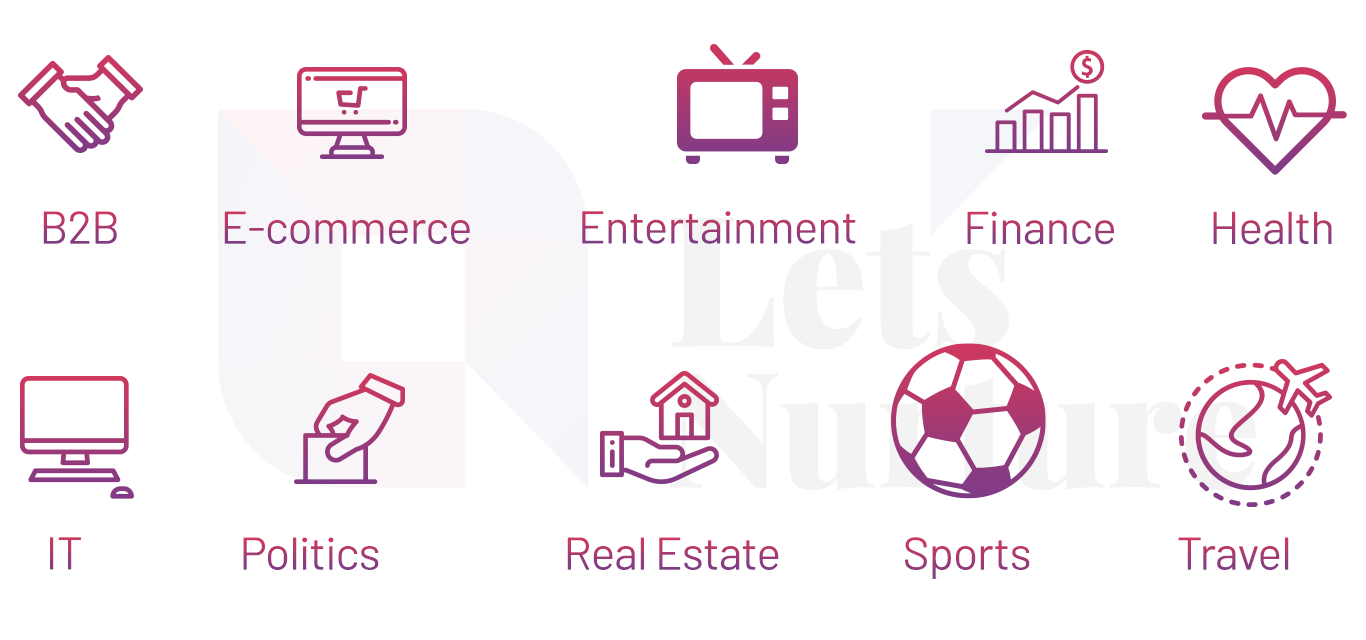 Your competitors are making it big by getting some great apps developed for their business and it is the right time for you to have a brilliant app and make your business mobile…Write to us on info@letsnurture.com and get futuristic applications on your table now!
Our Testimonials
We continue working with Ketan primarily because his company provides excellent results. The team of Lets Nurture is not only result giving but also helpful, creative and doesn't create any trouble for us. I would have no hesitation in recommending the company to others.

Whenever we have hired services from Lets Nurture for some of our projects, we have always found their work to be of high standards. Moreover, the team of Lets Nurture always keeps us updated on progress. I would not hesitate to approach Lets Nurture for further projects.
Our Portfolio