50 out of  Top 100 Blogs are now using WordPress CMS
Last year it was 48, now it is 52. WordPress is reigning is becoming widely accepted as a blogging  & CMS platform. Pingdom has just released new list for top 100 blog .  Wordpres has almost 65 million websites in the world.
WordPress is used by one of the top news/media websites like Masable,Techcrunch, thenextweb and 7 Blogs of Newyorktimes.
Do you know which CMS Platform is used by Twitter?
Twitter's blog was previously hosted on Blogger but now it  is moved to drupal CMs.
To know more about other blogging framework used by top 100 blogs you can check Pingdom's blog post here..
What is the future of blogging?
Blogging is a first proven strategy of reaching out to audience. It is one of the most required inbound marketing strategy.   Blogging is very important to drive community to your website.  As we know bloggers are human and we have seen people have now tendencies to read personalized content instead of generalized content.  We foresee a very steady and strong future of blogging & bloggers on internet.
http://royal.pingdom.com/2013/05/07/wordpress-top-100-blogs/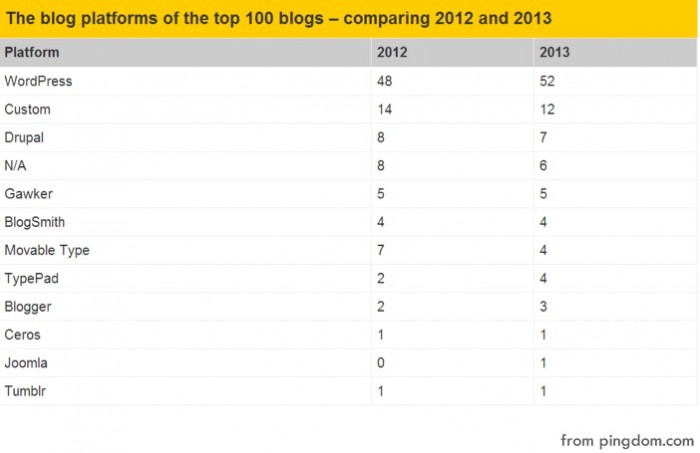 What was situation .. in 2012PS: Image Source Pingdom.