LetsNurture named as Top Developers in Australia & Canada!
on February 2, 2018

Recently Clutch, the B2B research and client reviews platform, published a new Leaders Matrix. And guess what? LetsNurture has crafted its way to the heights of premium recognition. A globally recognised B2B platform 'Clutch' has awarded LetsNurture by including it in the Leaders Matrix, a list of Top Website Developers in Australia, whereas Top .Net and iPhone App Developers in Canada.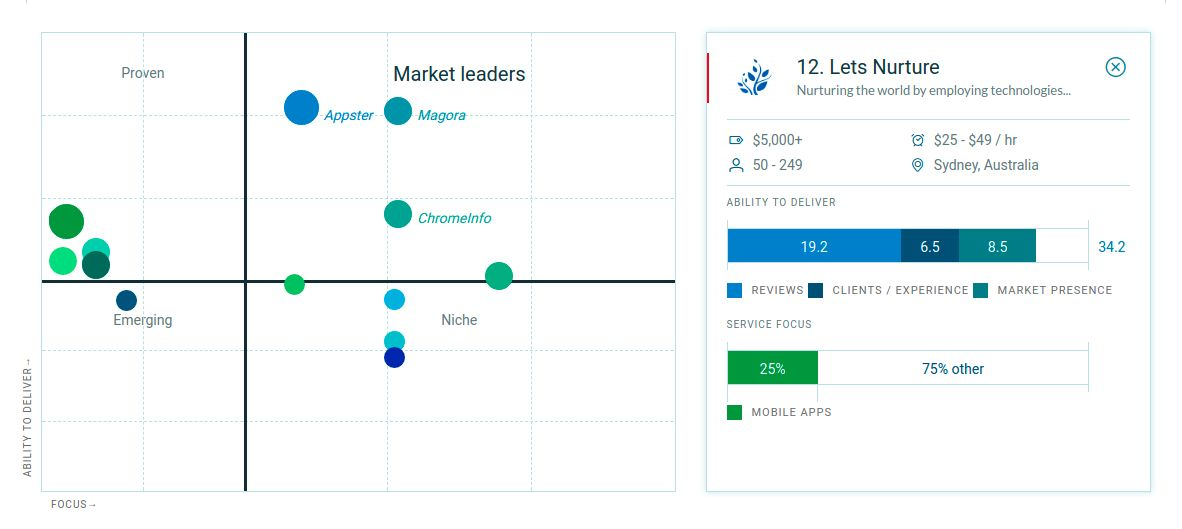 Know 'Clutch'?
Clutch is a data driven platform and a guide for B2B buying and hiring decisions for businesses around the globe. Top notch businesses, especially Technology and Marketing Professionals, from across the world use Clutch in order to buy or hire services provided by the others who have the company profile on this widely recognised platform. Being prominent and reliable platform, Clutch helps businesses to grow more effectively in their respective domains. On the other hand, it helps people in need to find quality companies by ranking report, ratings and reviews.
LetsNurture: Top Web Developers in Australia

This image from Clutch says it all about our sublime services by listing us as Top web developers in Australia. We have been top rated on the basis of their own rating algorithm which is based on factors like client reviews, their experience and ratings towards our services and market presence. Our focus is equally divided for core operations like website development, mobile app development, UI/UX design, wearable app development, digital marketing services and mobile app marketing.
Top .Net and iPhone App Developers in Canada
While we were cherishing the recognition given by Clutch in Australia, yet another feather in the hat was added for LetsNurture. It has been rated as Top .Net developers and Top iPhone App Developers in Canada. Given the range of services mentioned before, LetsNurture is becoming prolific as the time goes by due to high quality and timely project deliverables with top quality customer service.
What do our Clients say on Clutch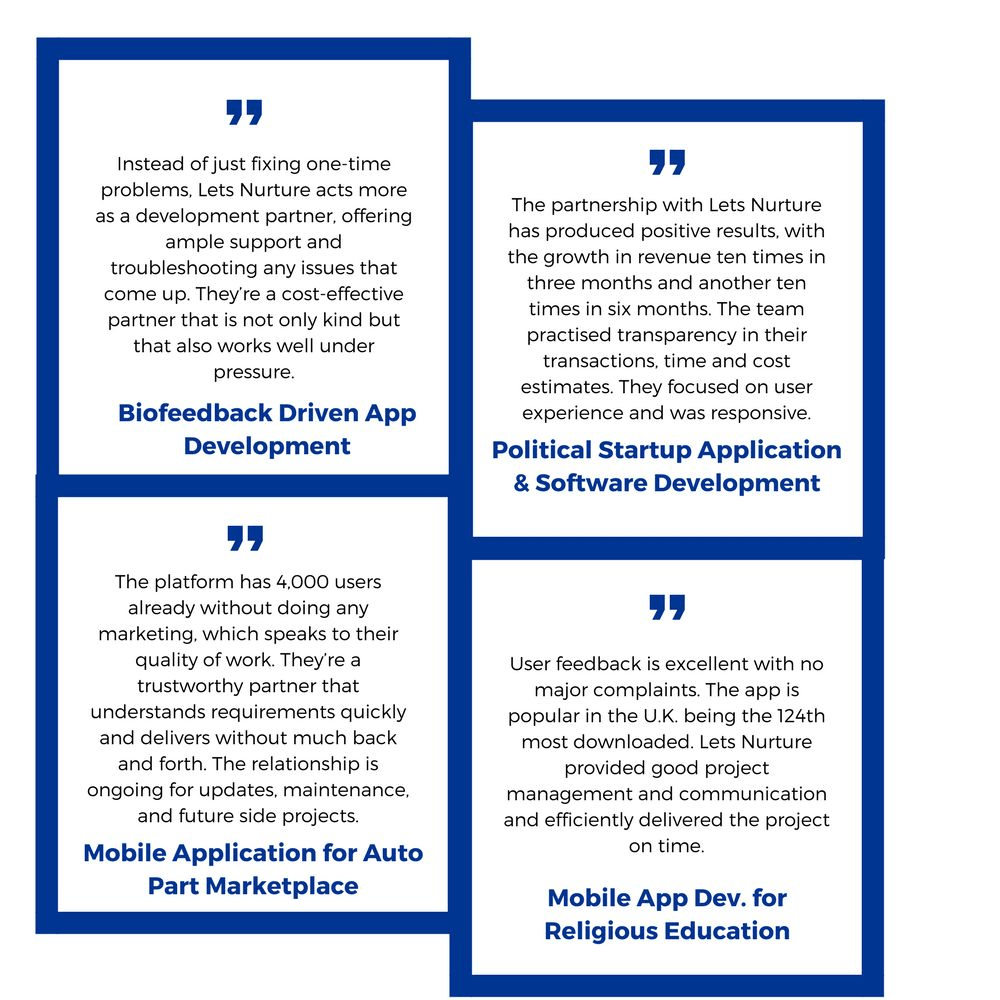 Check out our Clutch profile to read full reviews and learn more about how we were appraised!
Clutch Team: Thanks for featuring us in Press Releases
Big Thank you to 'Team Clutch' for featuring LetsNurture as leaders in iPhone app and web development in their Press Releases published on 1st February 2018 for Australia and Canada.
Read both Press Releases here:
http://markets.businessinsider.com/news/stocks/Clutch-Names-Top-Developers-in-UK-Canada-1014794907
https://www.prnewswire.com/news-releases/clutch-names-top-developers-in-uk–canada-300591877.html
Credit to Team LetsNurture
Well, we are thankful to Clutch team for observing and recognising our sheer commitment towards quality of service. We are absolutely proud and honoured to be amongst the leaders. We give the credit to our family, as we did our best to achieve this magnificent milestone after having delivered a fleet of projects for various industry verticals. Our dedication towards quality of service certainly has helped in achieving number of 5-Star Ratings from our esteemed clients.
The whole LetsNurture Team is extremely excited and equally motivated to have achieved this privilege. Obviously it is the great incentive for all of us for keeping up with our client's expectations, continuous self-improvement and maintaining the highest level of quality in becoming top developers in Australia and Canada.
Wide array of Services and Solutions we provide
Our Niche technological services includes but not limited to Custom mobile application development, Web applications, Web design and development, Apple Watch, Wearable Apps, BLE/ iBeacon Devices & Apps, SmartHome solutions, Health & Fitness, Automobile industry & Apps, TV apps, Geo-Location, Travel, Real Estate, Social, Business iOS/iPhone & Android Apps are showcased & can be seen from our amazing Portfolio.
Let's get in Touch
Visit our website if you want to know more about our work. We are ready to drive your idea into success. Get a quote after having a free consultation with our experienced team!