Motivational and Fun-filled Session on Joy of Work
on July 5, 2016, at LetsNurture, Ahmedabad
Saturday, as usual, was not a regular holiday for the Nurturers. It wasn't a working day either but something that would bring a smile on the faces and joy in the work of everyone. The July 2nd, 2016 was scheduled to have a wonderful session on Joy of Work.
Why Joy of Work?
As everyone was already intimated, still no one had far idea of what is going to happen and how? The most discussed question until now was why we are in office when there is no work and that too on a Saturday. Everyone was soon going to realise its answer in next few hours.
Mr Yagnesh Vyas, a renowned trainer and HR consultant had designed this program to uplift the moral spirits and infuse a sense of joy while working among the Nurturers. The session was started with Energizer and Icebreaker that would release all the dizziness of being in the office on a non-working day.
Fun and Dance
There were some physical activities like dancing and jumping making everyone ease off. The activity was very much a fun & blasting as expected from the name. It was thoroughly enjoyed by each and everyone on the floor. It surely ceased to be an icebreaker making everyone open with our Speaker.
Loving what you Do
Later, Yagnesh showed a presentation on 'Joy of Work' which had various exercises involved. In one of such exercise, team was asked why they LOVE their JOB? After which he gave Top reasons why people love their jobs and insights on Quality Work Culture. Yagnesh also shared a deep philosophy on "Work for the Joy of Work" which was based on adding a sense of joy in anything you do. The session took a 10 mins break for refreshments.
Prioritising the Task
The post-break session was more about skills needed to make the work and workplace Joyful. It began with a talk on Time Management and was concluded with activities that would inspire the team at LetsNurture to be more adapted to prioritising the work as per time and importance.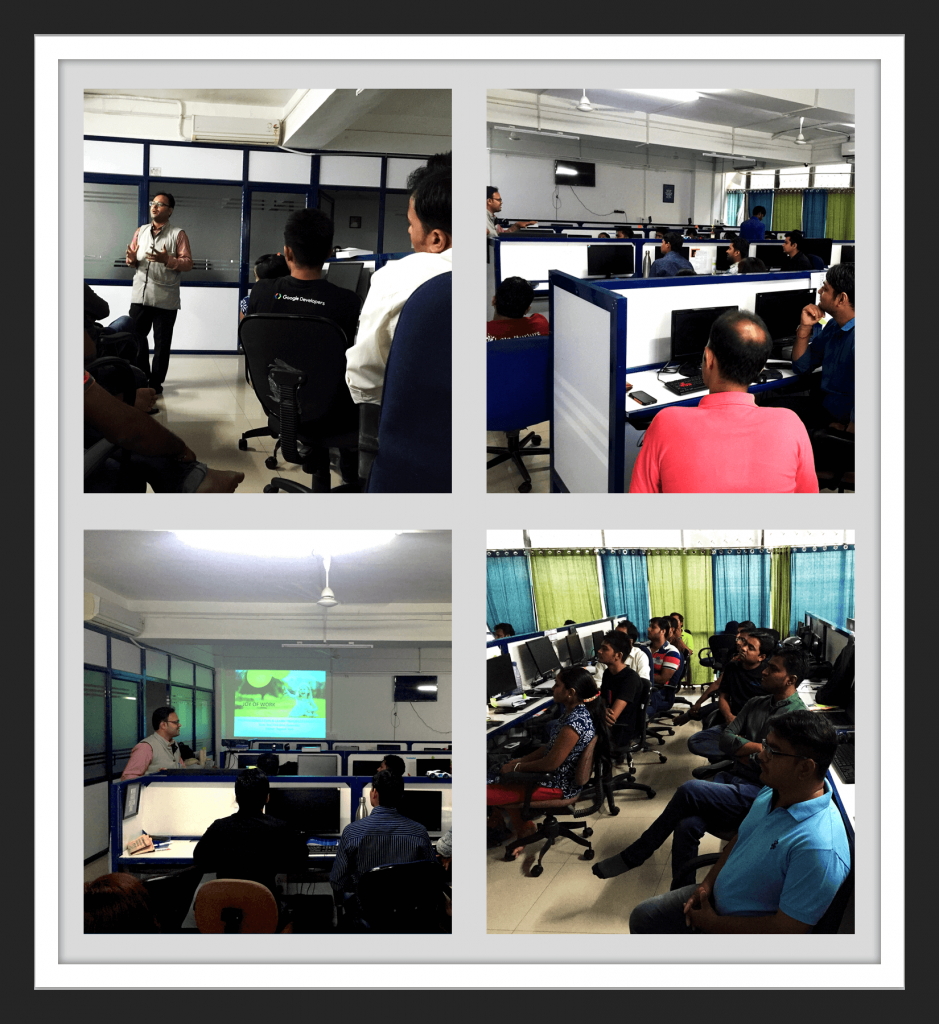 Never Give-Up Real Life Stories
During this session our very own Nurturers Pranay Patel, Paresh Mayani, Jignesh Thanki and Lokesh Dudhat shared their real life inspirational stories about their Never Give Up attitude that made them successful. While Paresh shared how being the lowest scorer in English he went on to become an International Speaker on Android Technology, Lokesh shared his journey of becoming a iOS Team Leader from a Professionally untrained developer.
Later a group exercise was conducted on teamwork to infuse the skills of working together, helping each other and using the best of everyone to attain a common goal. The session was concluded with 'Joy' song and dance making everyone enjoy with the contentment of their heart.
Concluding Session
Such a session was a great way to ease off weekly stress in the office and helped in learning more about enjoying the work. The question that was on every mind before the beginning of the session was answered in an amusing yet infotaining manner.
Pratik Bhansali our Business Manager appreciated the session and thanked Yagnesh Vyas on behalf of the whole team for this wonderful fun and activity based learning session. Pratik sir also conveyed to have such sessions more often to keep up the spirits of the team members.