10
January
How Voice Enabled devices are set to dominate your life in 2018?
Posted by

Krish Nair
1.28 K views
Ever had an idea of saving time using voice enabled devices and technology while depositing it on relevant things to make lives easier than ever by the use of speech recognition software? From calendar scheduling to website monitoring and from business trips to self-entertainment you can rely on voice enabled services!  

Give your words and it's done
Relax your thumbs and give a voice to speech recognition software of Alexa device to accomplish your deeds in 2018. As era of typing on screen has deprecated and voice enabled services has taken up the place, it saves large number of human hours.

Got stuck in important work and have no time to touch even your cell to order food?

Do you forget everyday to book cab before leaving home and have to wait?

Want to get suggestions for best restaurants near you and even book sits?

Want to get quick updates/alerts about patient's health in hospital?

Want to know stock, price, delivered, payment details about products without having an eye on it?
No worries, Alexa device based on voice enabled technology can ease up your life after helping you out in all daily stuff. Check small example of speech recognition software which will give you latest feeds coming straight away from LetsNurture.
Voice enabled technology can make money off you
Third party service providing firms get benefits on how a user searches for services. For example, consider you are providing food delivery services and if user raise query like "get pizza near me" then you can probably provide services to them. There is no need to say what instant profit you can get by using voice enabled services.
Conversational technology makes easy and fast ecommerce
Voice enabled devices are like virtual salesperson. You just need to tell speech recognition software about your requirements and it will provide you with best of what it has. Here's a small example of conversation with Alexa device;
Hello, Alexa
<Hello sir, what can I do for you?>
I'd like to order jacket for me
<What kind of jacket you would like, casual or formal?>
Casual
<Here are some brands from which you can chose.(lists the brands)>
Puma
<What's size of jacket?>
L – Slim fit
<Okay. The price is $250. Should I order it?>
Yes
<Thanks. Your order is confirmed.>
"Voice Labs estimates there will be 24.5 million voice-activated devices shipped in 2017, which amounts to 33 million in circulation by the end of this year."
Voice enabled devices
can save lives of people 
In emergency, anyone gets panic and can't figure out what to do except yelling for "Help Please". Voice based guidance can assist accurately for the first aid steps to be taken and even call ambulance without saying extra words.
It can assist doctors about patients health at certain intervals of time and can give alerts to them if any emergency is needed with a patient's name and room number too. Yes, these things are possible by voice enabled technology.
Friendly disabled people's life is easy now!
As per WHO almost 15% of world's population by 2017 live with some type of disability. Daily routine work can be managed by voice enabled devices. Innovations in voice enabled devices and technology for persons with disabilities might make them non-disabled people. They can speak up and get their work done.
Real estate agents, get a tour to ongoing projects while remaining at home!
You are away from site and need to check on workers and ongoing projects? "Take a tour at (real estate project's name)" can bring you to virtually on site leveraging in demand IoT Solutions and save your time of travelling to the site. 
You may like : IoT based solution revolutionizing Smart Buildings
Even you can schedule your routine and set reminders for whole day and you get just notify for what you should be upto.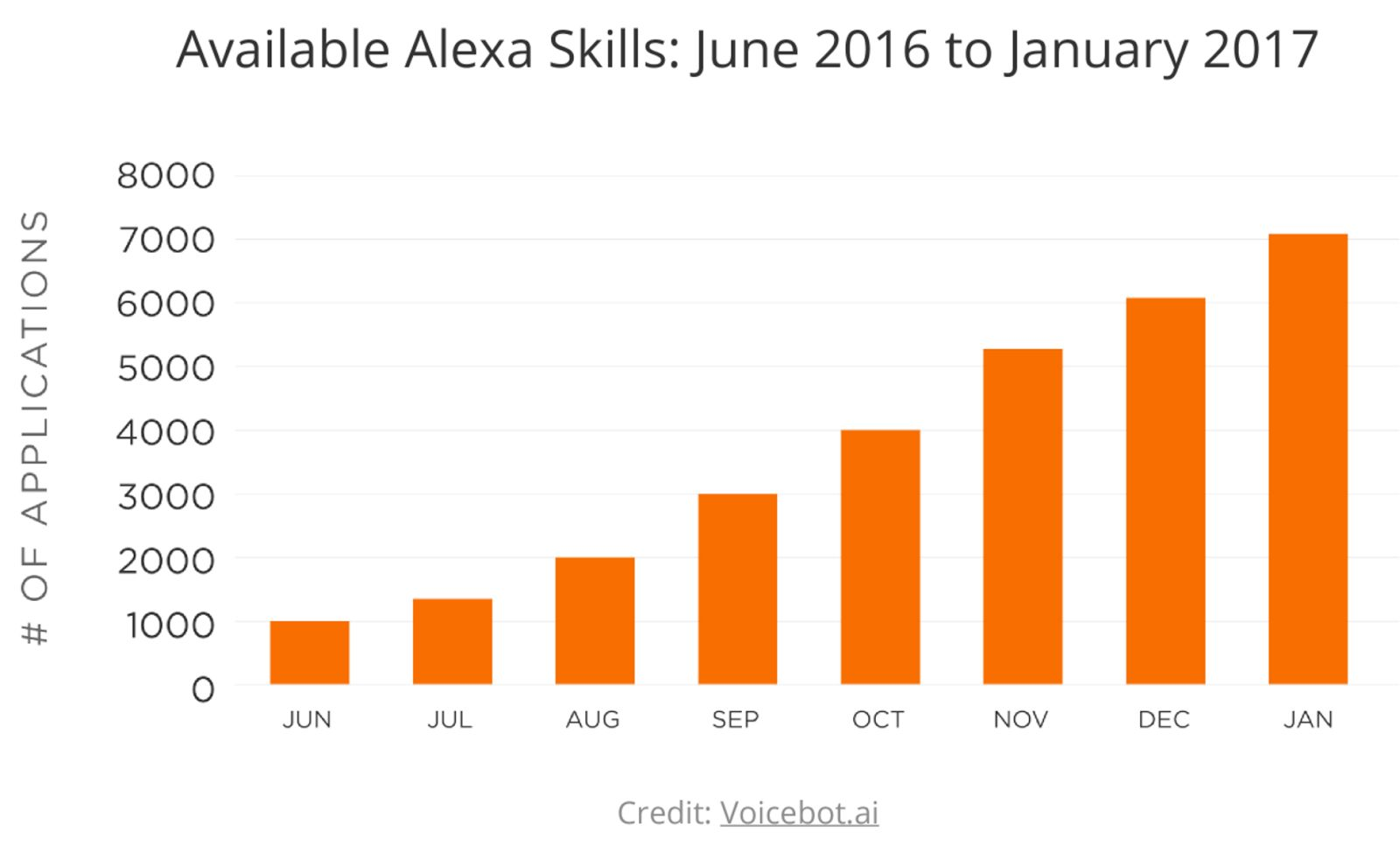 Some stats from 
voice labs
that might put you in wonder:
46.7%

voice enabled devices

are used by people to listen music and books

29.1% A

lexa device

serve as a smart home devices.

29.1% A

lexa device

serve for games and entertainment.

26.5%

Alexa device

serve as news and podcasts.

1.1% business services which will raise to 10.8% by 2018.
2.7% serve as a brand content.
Sounds cool? Yes, it is.
What LetsNurture offers for Voice Enabled Devices and Technology
And for that LetsNurture has in-house expertise in providing services and solutions based on  Alexa app development or Speech recognition software. LetsNurture offers facility to hire dedicated Alexa Skill Developers in order to bring expert deliverables on Alexa skills for what you wish to urge from your Alexa device.
Sharing ideas don't take much efforts. So if you were waiting for the perfect time to seize this opportunity, the time is now. Share your idea with us to get a free quote today.