13
February
How Beacon based Solutions enhance Microlocation Management
Posted by

Vijay Dwivedi
647 views
Technology has always served virtually to overcome real time problems faced by humans. Internet of things has turned boundaries of technology into horizon, just by introducing Beacons. While GPS was busy improving its accuracy results, beacon based solutions overcome the accuracy issue by featuring advanced microlocation management solutions.
If you do not know what beacon is, read: What is iBeacon/ BLE device and how does it work?
Why iBeacons are well suited for microlocation management solutions?
Unlike GPS, beacon technology works on BLE (Bluetooth Low Energy) which led to save more power and ultra wide band technology (UWB) resulting high accuracy in showing distance. GPS is best for outdoors but for micro-location management, beacons are highly preferred.    
Beacon technology uses triangulation pattern to communicate with nearby beacons which helps in providing accurate information about places and objects near you or away from you. Program loaded in beacon chipset mainly contains three things: beacon id, major and minor.
Beacon ID:

Beacon id or UUID is a unique id provided to every beacon to distinguish from other beacons connected in network.

Major:

Major are the values which are intended to identify and distinguish a group of beacon from network of beacons. For example all beacons on a certain floor or in different room could be assigned a unique Major value. These values are in integer format between 1 to 65535 and its size is 2 bytes.

Minor:

Minor is same as major, in terms of size and range of integer value but Minor values are intended to identify beacon as an individual from group of beacons. For example, distinguishing particular beacon within a group of beacons assigned a Major value.    
Places where iBeacons are used for microlocation management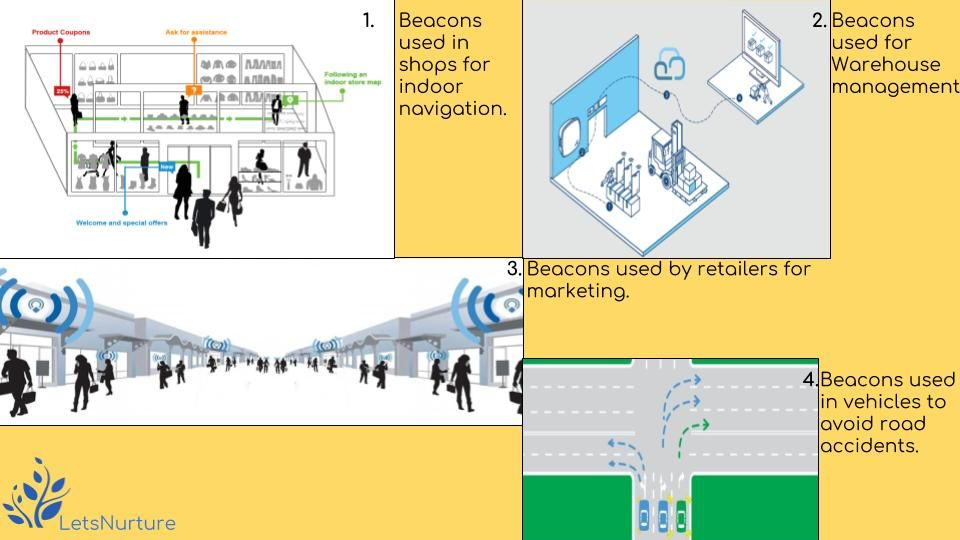 iBeacon used for Warehouse management
Beacons are used for providing Asset Tracking solutions in warehouse as well as monitoring the stock. Ultra Wide Band technology offers to find indoor tagged objects, so it's also useful for indoor navigations in shopping malls, offices and inside your home.
Beacon based Solutions for Smart Parking
Hunting for a car in a huge and dark parking lot is a difficult task. Leveraging IoT technology combined with expert custom mobile application development, beacon based Smart parking solution can be a saviour for you and an instant solution. Smart parking solution will help you to find empty parking slots. Once you locate the parking area you can open parking slider from the mobile app itself and can also pay parking charge through the app. Moment you park your car,it will save location of your car and an application in your phone will notify you about it.
iBeacons for Smart Retailing Solutions
For retailers, beacon based solutions using iBeacons is a very good take when they pair it with their POS (point of sale) system. Retailers can use PayPal beacon which is USB enabled and can connect to POS system. After connecting it will start showing the brand offers, discounts, item details to customers on their smartphone (only if PayPal app is installed) when they enter the store. Proportionally, it will also show cashier all the details of customer, order list, shopping history if its an old customer and transaction or payment of purchased items can be done by using the same.
Here are some of top retailers who use iBeacon technology
Beacon based Solutions for Road Safety
V2V technology has potential to avoid collisions between the vehicles by continuously sending alert messages to driver. There are mobile applications developed for automotives which work on V2V principles and send all the information regarding nearby vehicles to driver.
iBeacons used for indoor navigation
Beacons are already been used for searching books in libraries and in bookstores, beacons installed on airports for navigation and customer engagement and also to locate hardware and automotive parts in garage and assets tracking in industries.
iBeacons used in Sports for tracking Fitness and Performance
iBeacons are used to track body motion of players which helps to take crucial and accurate decisions during the game. Mainly beacons are embedded inside the sport equipments or it is been wore by player as a wearable to track on fields activities.   
Beacon based Solutions used for safety and emergency purposes
If building is covered with fire flames and dense smoke, it is difficult to evacuate the whole building due to zero vision, beacon technology can help people to navigate to emergency or fire exits. Beacons can also send alert message to fire and rescue team and also notify person if they enter to any hazardous place.
You may like to read: Beacon Based Solutions: Blessing for Efficient & Safe Workplace
Why Us?
If you want to enjoy the benefits of beacons and you are looking for iBeacon app development, we can be your choice. Let's Nurture holds its expertise in iBeacon App development. Here is some work we have done on BLE/ ibeacon technology:
To know more about our work you can have a look at our portfolio and get free quote from our expert team.